​
Ready to Rise Up? This is YOUR TIME!
​
Journey deeper, learn more about yourself than you knew possible, nurture your inner world, and understand consciousness, the Universe and spirituality so you can live the expansive life you came here to live.
​
Using a powerful combination of inner work including breathwork, energy healing, meditation, mindfulness, mindset, self care, self love, manifesting, inner child healing, visioning, past life regression, embodied movement, intention setting and group energy to set the world alight with high vibrations!
​
I feel humble yet exhilarated, powerful but compassionate, and able to observe without judgement. When those around me seem to be full of dense energy, I feel like I am a butterfly emerging from a crysalis.
- RISE graduate
​
Join us on this essential journey to power up your body, liberate your mind and elevate your soul.
​
Keep scrolling for full details, to discover why NOW is YOUR time to clear your blocks, get out of your own way, and get dive deep into your inner world and to register to join us in rising up!
​
​
Early Bird Offer Ends In:
​
​
​
​
Are You Playing Small?
It's Time to Experience the Full Capacity of Life & of Yourself
​
This programme is for you if:
​
You've started on your self love, self care and spiritual journey but aren't sure how to or don't have the support to continue to explore and go deeper
​
You have big visions for your life but can't get out of your own way to make them happen
​
You feel alienated in your spiritual practice, like nobody else gets you
​
You know there's more to life and more to you but you're not sure how to explore this feeling and bring it into your lived experience
​
You want more from your meditation and manifestation practice but feel lost, blocked or unsure of how to explore further
​
There are parts of you that need to be healed and acknowledged before you can continue moving forward
​

You have a strong interest in spirituality and an open mind, you meditate or have experience with meditation, maybe practice yoga and believe in a greater consciousness, but you can't get your manifestions to come into fruition, you haven't quite found your place within the spiritual world and you're yet to connect with deeper energy, your higher self and spirit guides and the expansiveness of your own inner world
​
​
Sounds like you, right?
​​
​
You've found your home, your high vibe tribe, and your support network to guide you further into personal liberation, living your purpose and exploring everything this life has to offer!
​
​
Join us for 6 weeks of accelerated immersion into your inner world on the energetic, emotional, mental, and physical levels.
Together we will transmute stagnant energy into light so we can live in flow, from our hearts, and be a part of the change for ourselves, others, and for our Earth.
Get support, inspiration, sustainable knowledge, tools and hacks to keep raising your vibration whilst exploring the depths of your inner world with a group of souls all with the same intention --- to better understand our bodies, mind and souls, live our purpose, and set the world alight with high vibrations!
​
​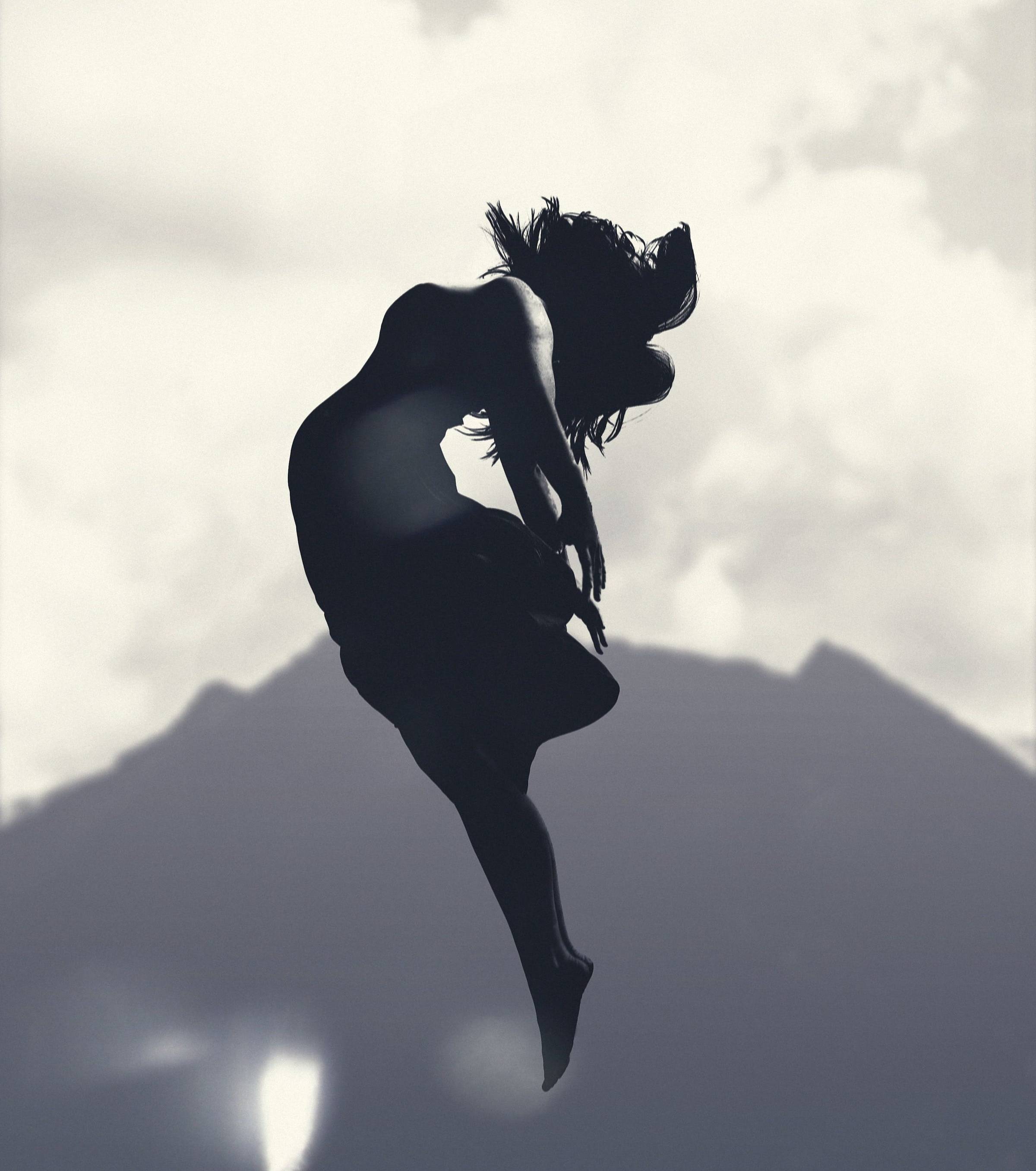 ​
What You'll Learn:
​
How to interpret daily magic from the universe
​
How to find and live your own truth (even if it's different from that of other people), unlock your purpose and inspire others to do the same
​
How to manage and understand your unique energy body and chakra system and use your energy body for ascension
​
How to cut energy attachments that are keeping you stuck
​
How to heal energetic blocks and identify areas of your life in need of healing
​
How to understand your past lives so you can better understand your purpose in this one
​
How to bring the magic of ritual and ceremony into your life
​
How to connect with your Higher Self to access insights and messages to help you make decisions
​
How to connect with your Angels and Spirit Guides
​
How to connect with and heal your inner child
​
How to gain crystal clear clarity and find your calm centre, whatever is going on in your external world
​
How to work with the powerful energy of intention to create your own reality
​
​
What You Get:
​
3 Live breathwork and meditation classes - learn how to tap into the innate superpower of your own breath to heal, energise, calm, balance, destress and amplify!
​
​2 Live Workshops with Expert External Practitioners - Learn from a Psychologist how to connect with and heal your inner child to overcome blocks in your adult life. A Hot Seat with your Angels and Spirit Guides workshop to get your questions answered AND how to cut energetic cords keeping you trapped in the past with a Psychic healer
​
6 Live Shake Out classes - shake yourself awake, release stress and tension and get high off your feel-good hormones!
​
Weekly Live Zoom workshop to get your questions answered, check in, and learn more vibration raising wisdom
​
More than 25 years worth of combined evidence -based knowledge, skills and passion of 2 international yoga and meditation teachers, energy healer and intention coaches and three external expert practitioners
​
Daily WhatsApp motivation, affirmations and journal prompts and community of supporters to keep you motivated and accountable
​
Comprehensive weekly workbooks to develop your self practices and integrate the weekly teachings
​
​
RISE is priceless. I feel empowered. I feel sacred. I feel alive. I feel loved. - Anne, RISE Graduate
​
​
---
What RISErs Say:​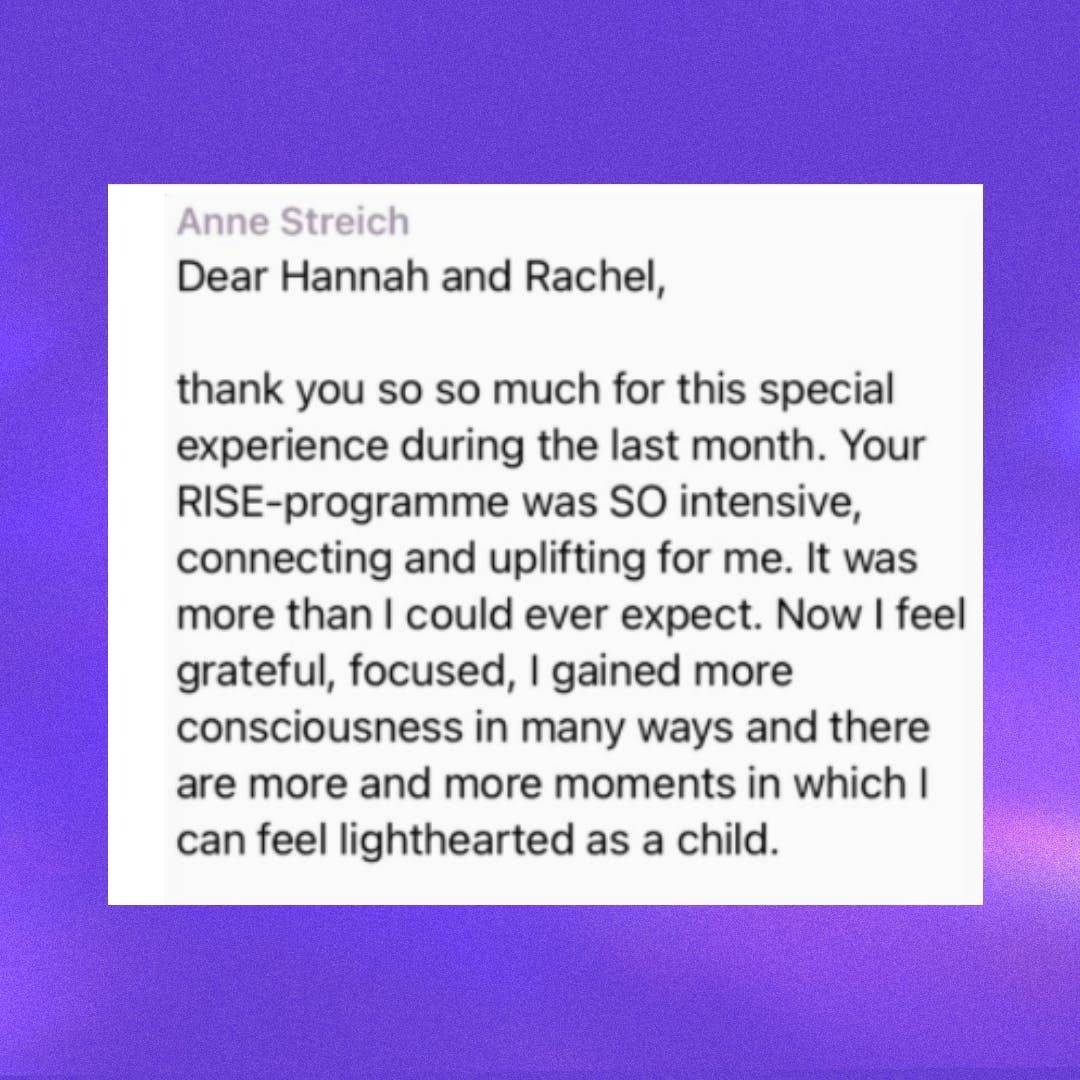 ​
---
​
You get all of this for just:​
​£333
before 31st July 2021 - in August, the investment goes up to £444!​
​(Payment plans available, contact us for details)
​
Early bird ends in:
​
​
So join us from the 21st September for an unforgettable 6 week journey of personal empowerment and invest in YOU so you can explore the heights of life while inspiring others to live in their own alignment, too.
​